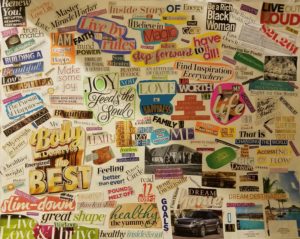 A VISION BOARD HOME PARTY
            What is A vision board anyway?
A vision board is a visual tool used to get your goals and dreams out of your head and onto paper.  It's created using pictures and words cut from magazines. Inspirational words and phrases telling the story of whom you would like to become, empowering words that really steer the soul.
It is a true work of art.
Pictures are displayed to help you remember what you really want in life.
Who needs one?
Anyone can make one. Teachers. Students. Parents. Children. Women. Men. Someone looking to create change in their life. Anyone with goals to achieve. A single person looking to attract a mate. A teenager hoping to attend a particular college. An entrepreneur focused on building a successful business. A family desiring to own their dream home or go on their dream vacation.
Why make one?
Do you have any New Year's Resolutions that seem to be on your list year after year? No? Great! But, if you do, a vision board is a great way to put those dreams right out there in front of you as a daily reminder of the new habit you want to create. Maybe you'd like a new car, a new home, a new and better job or career. There are probably some tropical vacation spots you've seen on your friends Facebook page that you really wish you could visit. What about those 10 pounds that your bestie lost and you found? And wouldn't be great to have a nice fat check with a few commas and zeros?
You can make a vision board covering every area of your life or just one as your focus of improvement or growth.
LIFE AREAS:
Relationships - Health & Fitness - Career - Money/Finances - Material Possessions - Travel Hobbies - Education - Personal Development - Fun - Spirituality
It's completely up to you what your board includes.
What is a Vision Board Home Party?
♥ Pick a theme or purpose
♥ pick a location (your home, business, any location of your choice)
♥ invite your friends, business partners, co-workers, family, students, kids, etc.
♥ create a vision board inspired by your deepest desires and wildest dreams
♥ visualize your board as a reality
Do you have any events coming up?........
♥ Having a birthday?
♥ Ending a relationship?
♥ Need a theme for your girls' night in?
♥ You and your girls want to focus on self?
♥ Corporate shindig?
♥ Church function?
♥ Women's Empowerment group meeting?
Host your own Vision Board Party........ And
♥ get clear on your goals and dreams
♥ learn positive techniques and tools to stay focused through to the manifestation
♥ attract some positive things, events, and experiences into your life
♥ get your girlfriends together for a night of FUN!
Fill in the form below with your name, best phone number and time to speak to schedule your vision board party. Make sure to type Vision Board Party in the subject line.