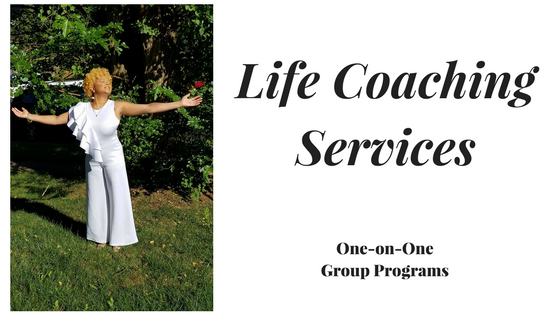 "I've experienced the ability to understand that my thoughts are what control my actions. I've learned to monitor and change my thoughts I'm giving a situation. The best part of working with you is I am dealing with issues I've never had the courage to deal with. I am getting stronger and transforming in front of my own eyes. I am tearing down my limiting beliefs and building more affirming beliefs. If a friend was thinking about with you, I would tell them that you are awesome and the knowledge and tools you share is life changing." ~~ L.B. 
What is life coaching anyway?
Life coaching is a personalized partnership that focuses on the goal of the client. You are the expert in your life. I am just here to help guide you to the answers that are already within you. If you didn't already have the answer, the question would not show up to be asked. I help you uncover the limiting beliefs that are sabotaging your life, and keeping the answer from being realized by you. I help you shift your perspective about life so you can acknowledge, accept, and live in your worth, and love yourself more than anybody ever could. 
Why am I the coach for you?
I've always been that friend who played devil's advocate when someone wanted my opinion about anything. I would say, "Well, what if he,....?" or "What if she....?" I know it got under my friends' skin, at first, but it also allowed them to see the situation from a different perspective, and ultimately see the solution they were seeking. This has been very helpful to me as well. Through my own journey of personal growth, I have learned that there is always a higher energetic way of looking at life. I've learned to use the pain of past relationships as stepping stones of empowerment. Through years of personal development and life coach training, I have come to understand how our lives are created through our thoughts and feelings which motive our habits and behaviors. I enjoy teaching other women to acknowledge, accept, and live in their worth. 
Let's work together to uncover the real you. The you that knows the truth about you, men, love, and any other subject you want to break the chains of self-sabotaging stories. The you that knows you are not your thoughts. The you that knows your are a worthy woman. 
Let's shift your perspective about life, your life. The men you encounter will thank you for showing up without baggage. And your friends. You won't have to call and vent to them anymore.
What to expect as my client?
I offer my clients an opportunity to get face to face with their truth. What they thought was someone else creating their experience is actually their own doing. I bring them to this realization through good ole girl talk. They tell me what they are dealing with, and I ask them powerful questions to get them to look at whatever is going on from a different view point. I get them to see that reality is subjective, based on personal experiences. I create a safe space for my clients to pour out to me what they probably wouldn't dare say to their friends. My clients get a fresh perspective with a new positive attitude. This allows them to see what they once would have called obstacles as opportunities for growth. They create new productive beliefs which lead to improved habits, and ultimately better results. I help my clients create a happier life.
You are my ideal client if you are...
Any woman age 18 and up who is:
*open-minded and ready to grow pass your comfort zone of beliefs
*tired of being tired and wants more out of life
*ready to heal the pain of a recent break-up or past relationships
*eager to reach her goals in a new more powerful way
*is looking for guidance in transforming her life
We can talk about....
*improving a current relationship of any kind
*self-love
*acknowledging and accepting self-worth
*learning to forgive your self and others
*healing past hurts
*understanding the law of attraction
*controlling your emotions
*defining and accomplishing your goals
*BEing a better version of YOUrself 
Click HERE for my Choosing ME life coaching program options. OR Message me through Facebook Messenger to schedule your FREE 30 minute Initial Coaching Conversation.