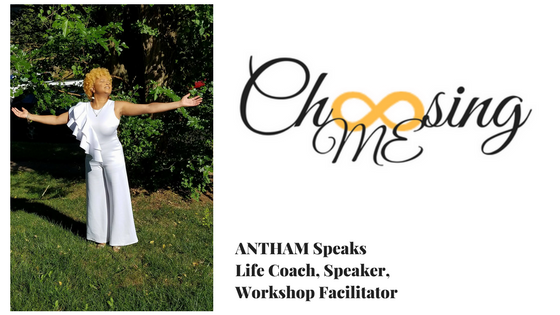 Love Yourself More Than Anybody Ever Could
BEcome the Woman of Your Dreams
Often times we get so wrapped up in life, trying to get it right, that we mess up everything. We focus so much on the career that we neglect our romantic life. We want our kids to be well rounded, yet we are neglecting our own need for a social life. I'll stop here, because I don't want to even get started with the choice of chocolate over carrots and tofu, or that extra hour of sleep, instead of going for that much needed morning run. (Ok, I'm done.)
Everyday we are dealing with something. Whether it's traffic with drivers who seem to have no destination, or those other people who always have something for you to dislike about them. They say something wrong or they do something stupid that really pushes your buttons.
____________
I remember coming to the realization that I was tired of being angry. I was tired of not having things go my way, and always getting upset about them and their outcome. I had to remember that it was all my fault anyway. Well, maybe not fault, but more like my responsibility. I knew that I create my reality, but my dream life just wasn't coming to fruition as I thought it should have already. I knew what I needed to do, but nothing would allow me to do it. I needed to just get into my place of joy and stop giving everything and everyone else the power to pull at my emotions and yank me out of my happiness. Like I was ever in my happiness to begin with. My life was absolutely NOT what I wanted it to be. So, how the hell could I be happy? I mean my relationship was a mess, of some sorts. We just couldn't love each other right. My money, when I had some was not even funny. More like a tease. Like, "Hey I'm here." Then, "See yah later. Bye," just as fast. I just knew that I was tired. Yes, tired of being tired.
So, I had some decisions to make. I had to make a huge choice. I had to answer a relatively tough, yet easy question:
WHAT AM I GOING TO DO?
I had 2 choices.........
I could continue doing what I had always been doing, and get the same results
or......
I could do something different, and have a better life.
I wanted a better life for myself and my daughters, so I chose to do some things differently.
With that, my life began to change. I learned exactly who I was afraid of becoming and how to release that fear, so I could get on to being the woman of my dreams. This choosing wasn't just about choosing to take different actions, well kinda.
It was about Choosing ME in a HUGE way!
Choosing Me meant choosing:
♥ 

Me over anyone else

♥ 

Love over fear

♥ 

My joy over frustration

♥ 

Peace of mind over overwhelm

♥ 

Clarity over confusion

♥ 

Faith over worry or doubt

♥ 

Abundance over lack

♥ 

Freedom over control
My life depended on where I put my focus!
So, I choose Liberation over transformation.
Liberation meant that I was FREE from everything that had originally been an obstacle. I've learned how to use what didn't, and couldn't, break me, to make me stronger. I am BE coming the woman of me own dreams. For years, I had been focusing on unbecoming who I had been conditioned by my thoughts to be through transformation. But, the butterfly never emerged.
Choosing ME feels so liberating!
"The most liberating and empowering day of my life was the day
I freed myself from my own self-destructing non-sense."
~~ Dr. Steve Maraboli
Are you ready to Choose You?
Ask yourself the following questions:
*Do you want more out of life, but don't know where to start?
*Do you find yourself feeling the same let down at the end of your relationships?
*Are you ready to release the pain of unworthiness?
*Are you tired of not feeling worthy of the life you desire?
*Have you been sabotaging yourself, your relationships, and your life?
*Are you afraid of rejection?
*Are you ready to stop being unhappy?
*Are you still settling for less than you know you deserve?
If you answered yes to any of those questions,
then this program will greatly benefit you.
"It's not selfish to love yourself, take care of yourself, and to make your happiness a priority. It's necessary!"
~~ Mandy Hale
At the end of the program, you will have a new perspective about the truth of your life.
Choosing ME is the program for you if you are ready:
♥

to love yourself more than anybody ever could

♥ 

heal emotional pain and release the baggage that comes with it

♥ 

to put yourself first

♥ 

to put your desires before your thoughts, worries, or fears

♥ 

to grow and expand

♥ 

not only change your life, but

BE FREE

from everything that keeps you feeling stuck
What is Life Coaching? Click

H

ERE
"Your task is not to seek for love, but merely to seek and find all the
barriers within yourself that you have built against it."
~~ Rumi
This is

NOT

the program for you if you.....
♥ are unwilling to do the work
♥ set in your ways and too stubborn to be open-minded
♥ find joy in bringing everyone else down
♥ so tied to your story of pain that you won't let it go
♥ don't really want what you say you want
♥ like living in your misery and are not ready to set yourself FREE
The

Choosing ME

 

Package Options
Individual Coaching
♥ $597 
♥
♥ one-on-one confidential call with me
♥ for 6 weeeks
♥ 1 hour weekly
♥ Self-work activities
♥ unlimited email or private message support during the 6 weeks
A V.I.P. Day Intensive
♥ 

Full Day Intensive 

$697 for 5 hours
♥ 
Half Day Intensive 

$397 for 2.5 hours
♥ A full or half day One-on-One Individual Coaching with me
♥ Live or Virtual by video call
♥ Focusing exclusively on the Choosing ME action plan
♥ Self-work activities
♥ a 30 minute Follow-up Conversation 2 weeks after your V.I.P. Day Intensive
A Sista Circle
♥ Click HERE for Sista Circle details and rates ♥ 
♥ Live or Virtual by video call
♥ Focusing exclusively on the Choosing ME action plan
♥ 2-3 hours
♥ Self-work activities
♥ a Follow-up Conversation 2 weeks after for anyone who purchased coaching