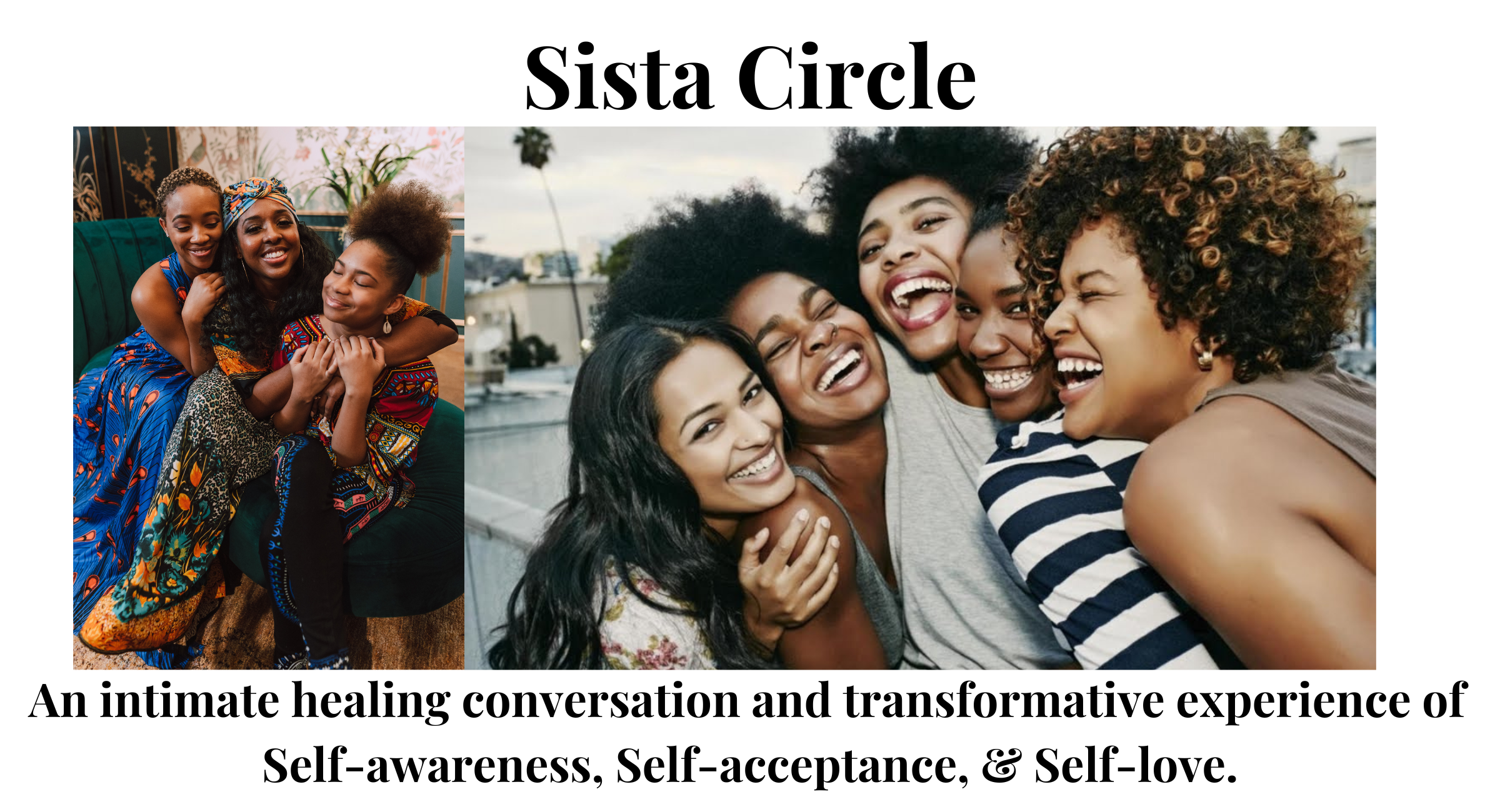 Remember the pleasure party at your girlfriend's house where you played games and laughed about the lotions, potions, and things of love's motions?
Well, this is another one of those parties, except this time, there will be no goodies to smell and pass around. And your cell phone will be the only thing vibrating.
A Sista Circle is a great way to spend quality time with your friends, working toward your goals, instead of venting about what just isn't going right. 
Haven't you done enough of that?
Isn't it time that you and your friends changed the details of your girls' night in and the details of your conversations from talking about your problems to growing pass your pain.
Host a Sista Circle with your closest friends.
A Sista circle is an in-home small group coaching session. 
Each woman gets coaching about her topic inspiring the other women to hear something useful for their own lives. 
The Experience
Inspirational
Informative
Enlightening
The Transformation 
* Get clear on what you want in love and life

* Uncover hidden and not so hidden blocks that keep you stuck, asking "Why me?"

* Forgive the past and prepare for the new possibilities of the future

* Laugh, cry, and BE transformed with a new perspective about love and life

* And so much more
What is a Sista Circle?
A Sista Circle is an intimate sacred gathering for thought-provoking conversation.
A small intimate non-judgemental group coaching session. It is a transformative and perspective shifting experience. Each sista will be coached on a topic or issue of her choosing, as well as gain insight from the coaching of others in attendance.
What will we talk about?
* how we unconsciously give away our power with our energy

* how to acknowledge, claim, accept, and live in your self-worth

* discover ways to love yourself and stand in your truth like never before

* get clear on your core desires, why you are stuck, and understand what it takes to break free

* a conversation taylored specifically  to the needs of the group
* AND... much more
Topics include, but not limited to:
*Relationships of all kind
*Self-awareness, Self-acceptance, & Self-love
*Healing and Forgiving
*Manifestation
*Controlling Emotions
*BEing a better YOU
*Choosing ME Coaching Program
*Any topic specific to your group
Who should host or attend a Sista Circle?
Any woman age 18 and up who is:
*open-minded and ready to grow pass your comfort zone of beliefs
*tired of being tired and wants more out of life
*ready to heal the pain of a recent break-up or past relationships
*eager to reach her goals in a new more powerful way
*is looking for guidance in transforming her life
Why host or attend a Sista Circle?
Why not? You already vent to your close friends anyway. So, you might as well have a certified life coach in the mix to help you stop the continuous cycle of venting and doing nothing about it, whatever "it" may be. It's time to heal, grow, and be the woman you know you are. You should be there if you want coaching, but may not be ready for a one-on-one life coaching program.
When is a good time to host a Sista Circle?
When you and/or close friends:
*are newly single, and want help healing from the breakup
*are ready to hit your goals, but need some guidance from a life coach
*are celebrating a birthday or something special, and you'd much rather stay in than go out
*have seen "The Secret" and want more understanding of the Law of Attraction
*when you are not completely ready for a one-on-one life coaching program
Where will the Sista Circle take place?
It will take place in the privacy of your home or any location you feel is safe for every Sista to share.
A hotel suite, a rented space, any place you would like to host a workshop (like a hair salon, or a gym), any quiet place with little to no distractions.
PRIVACY IS A MUST! 

No outside non-paying guests are allowed and no recording.
How does it work?
Intimate Coaching Option:
Pick a date to invite 2 to 4 of your closest friends together for our intimate and private small group coaching conversation. Each person will receive individual coaching. Upon scheduling the event, each participant will be given a questionnaire to complete to help me prepare for our Sista Circle. Payment and questionnaires are due 2 days before the event is to take place. I will coach each attendee around a topic of her own choosing, while other attendees gain their own insights from each conversation. It can also be a discussion that everyone participates in all at once, with me guiding towards a healing outcome. Each person will be offered the opportunity to work further with me if she chooses. Only people participating in the Sista Circle are allowed to be present to maintain the privacy of the group.
Small Group Discussion Option:
For Sista Circles of 5-7 people, there will be no individual coaching, unless they are a V.I.P. (extra fee). This group will focus on the topic chosen by the group. Payment is also due 2 days before the event is to take place. Click HERE for details about booking for more than 7 people.
* Intimate Group Coaching Conversation (2-4 people):
$400 for 3 hours
Individual coaching included
* Small Group Coaching Discussion (5-7 people):
$500 for 3 hours
Individual coaching for up to

2

people with an additional V.I.P. fee of

$50

each.
The hostess receives 1-hour private Follow-up coaching call.
For details about workshops with more than 7 people, click

HERE.
I am available to facilitate workshops at churches, colleges, sorority events, business locations, and women's organizations, groups, and conferences.
I can also customize a workshop for your audience.
Click HERE to see my speaking topics.
Please send your name and the best phone number an time to reach you to discuss hosting your Sista Circle. Make sure to type Sista Circle in the subject line. I look forward to speaking with you.